Iowa STEM, in partnership with the Iowa AEAs, is working together to provide six mini-sessions through October and Early November or a 1-Day Session to share information and STEM BEST design support to help local school districts in applying for the next round of STEM BEST Awards (See more information about STEM BEST below or explore the
website
 here).
We also encourage you to reach out to your local 
AEA 
to connect to resources, ideas, and support when planning your STEM BEST. If you have any questions about the STEM BEST Award please contact Tanya Hunt (cc'd), Project Coordinator for the STEM BEST Program.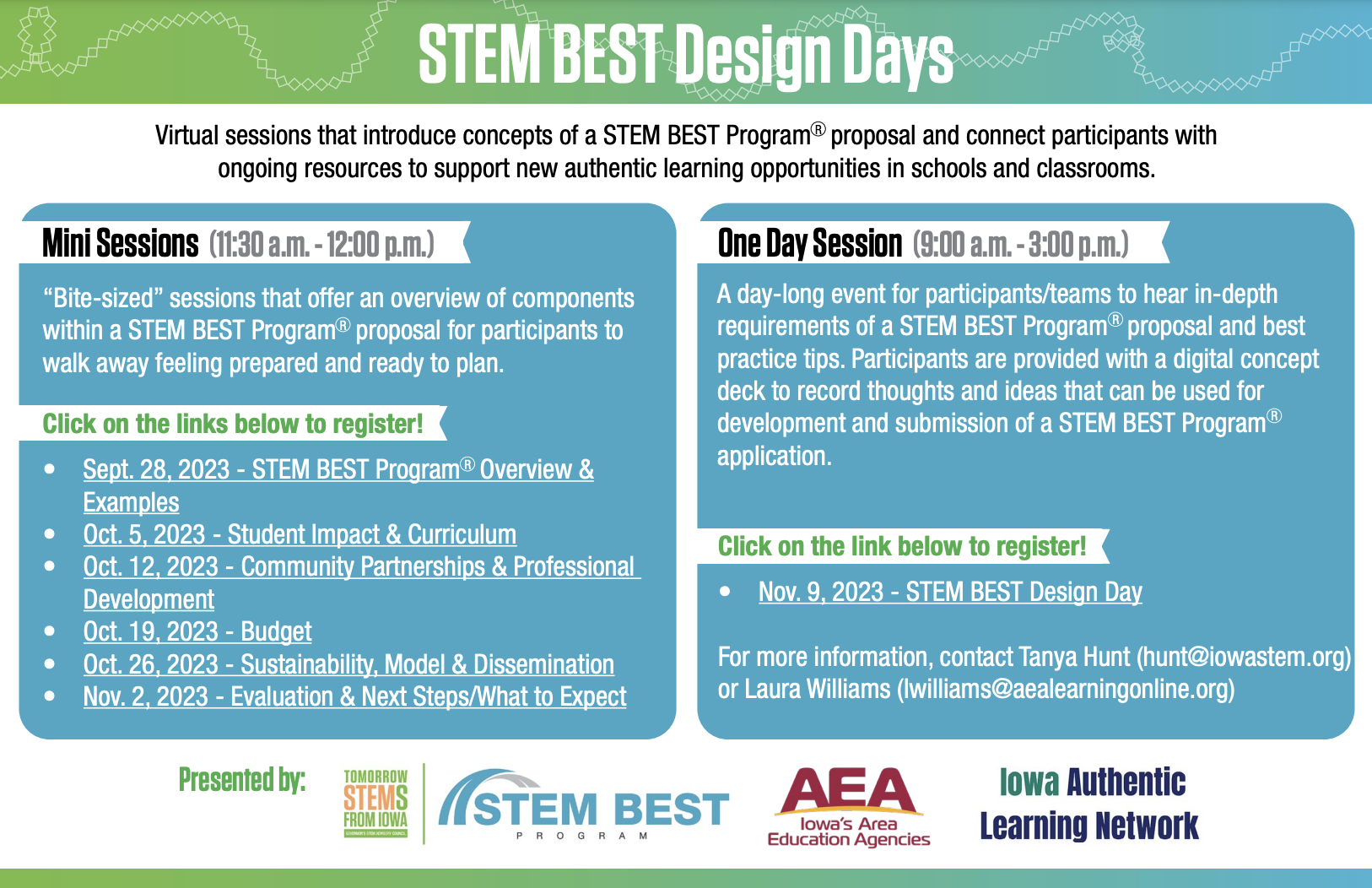 About STEM BEST: 
The STEM Council is working to dramatically expand STEM BEST® (Business Engaging Students and Teachers) via a Request for Proposals. The STEM BEST + HD RFP offers:
Award amounts up to $40,000.
The timeframe for expenditure is 17 months – February 2024 to June 2025.
Cost-share requirement is 2:1 match required, or $40,000 state to $20,000 awardee.
The goal of this STEM BEST+ H.D. fund is to support the launch of new or expanded STEM BEST K-12 models specifically focused on creating work based learning opportunities that allow students to develop future focused, 
high demand skills
 through authentic real world experiences (Future of Jobs Report 2020, World Economic Forum).
APPLICATION  AND PROGRAM TIMELINE
October 2, 2023: Application portal opens
December 13, 2023: Application due by 11:59pm
December 2023 - January, 2024: Application Review
February 2024: Awards Announced
February 2024 - May 2025: STEM BEST Program Planning and Implementation
May 15, 2025: Progress Report and final invoice must be submitted to:

Iowa Governor's STEM Advisory Council, Attn: Program Manager, 214 East Bartlett Hall, University of Northern Iowa, Cedar Falls, IA 50614

May 15, 2026: Final Report Due