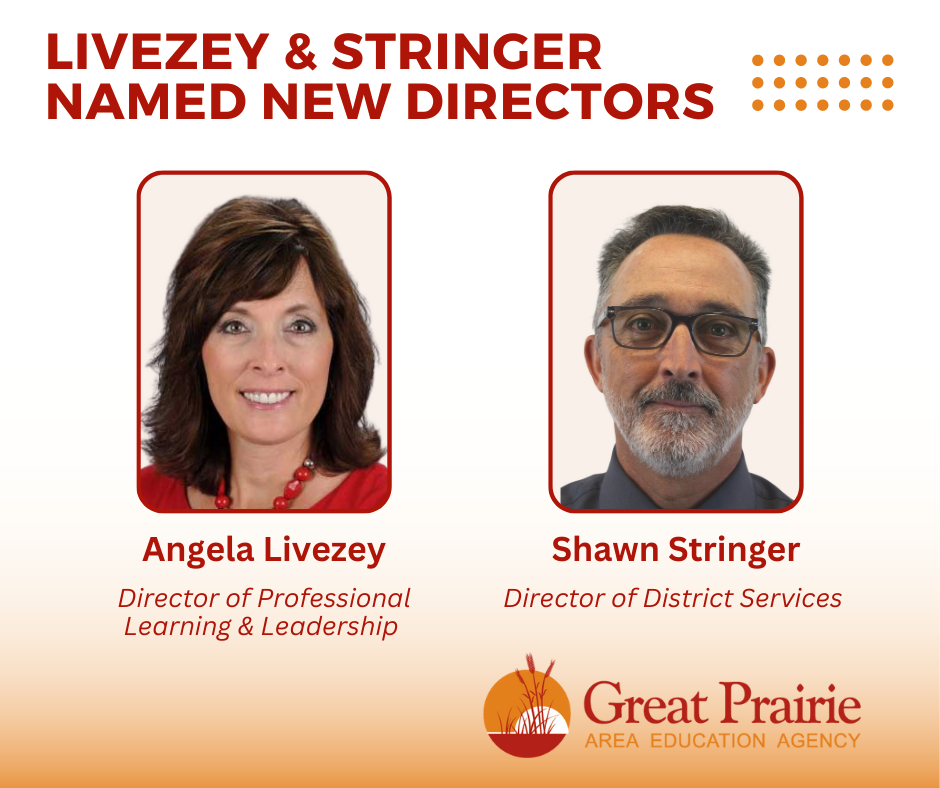 LIVEZEY NAMED DIRECTOR OF PROFESSIONAL LEARNING & LEADERSHIP 
Great Prairie AEA is pleased to introduce the Agency's new Director of Professional Learning & Leadership, Angela Livezey. Ms. Livezey comes to us from her most recent position as Superintendent and Elementary Principal at North Mahaska Community School District. 
A southeast Iowa native, Ms. Livezey holds a B.A. in Education from William Penn University (Oskaloosa) as well as a M.A. in Educational Administration from Iowa State University (Ames) and an Educational Specialist Degree from Drake University (Des Moines). She has experience supporting continuous school improvement, professional learning communities, MTSS, innovation, building capacity for leadership, and implementation of social emotional supports for educators and students.
Ms. Livezey's passion for people, relationship building and student success can be seen throughout her 30 year career.  In her new role, she will support building leadership capacity of district and AEA personnel through coaching, networking and professional learning opportunities. She will be a resource to schools and looks forward to cultivating and developing leaders across GPAEA.
Pending board approval on April 11th, Ms. Livezey will begin her duties as our new Director on July 1, 2023.
STRINGER SELECTED AS DIRECTOR OF DISTRICT SERVICES 
Great Prairie AEA is pleased to announce that Shawn Stringer will be the Agency's new Director of District Services. Mr. Stringer has served as a Regional Director for Great Prairie AEA for 11 years and will transition to his new position on July 1.
Mr. Stringer holds a B.A. in Elementary Education and a M.A. in Curriculum and Instruction from the University of Colorado (Denver).  He also holds a degree in Educational Administration from Fort Hays State University (Kansas).
As a Regional Director, he coordinates and leads AEA supports and services to Burlington Community School District, Burlington-Notre Dame, Danville Community School District, New London Community School District, and West Burlington Independent School District.
In his new role, Shawn will lead Agency professional development to districts and oversee school improvement efforts to ensure alignment with district needs and agency goals. His knowledge and experience with ESSA designated schools, identifying support and improvement, and creating comprehensive plans will greatly support building leaders. In addition, he is excited to support district-based teams and coordinate state and agency networks.
We look forward to Angela and Shawn joining the Agency in their new roles on July 1, 2023.