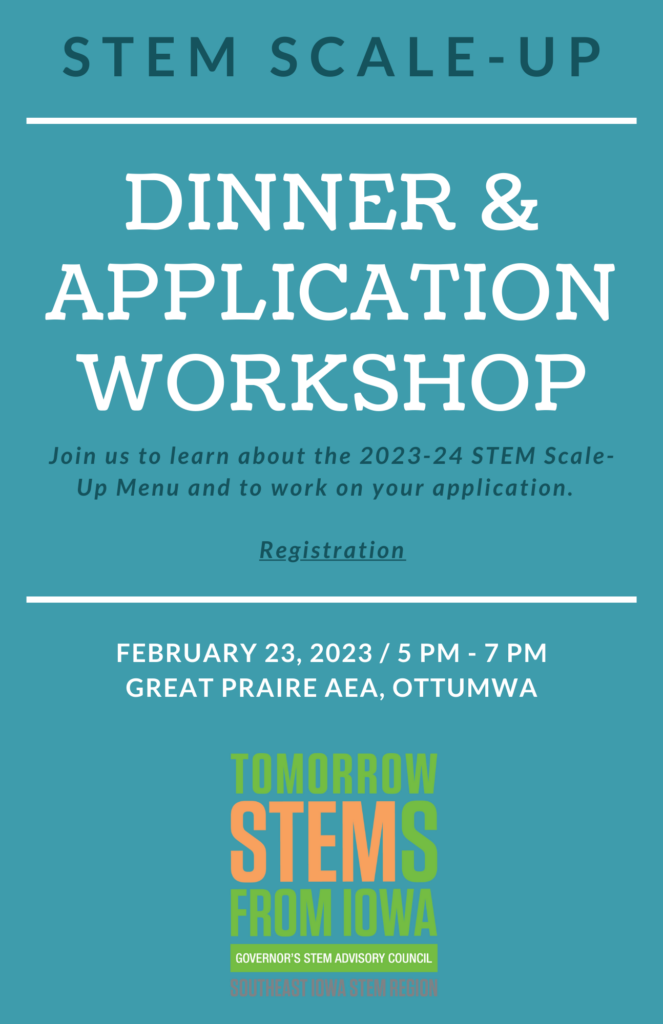 Register today
for the February 23rd STEM Scale-Up Dinner & Application Workshop at the GPAEA Ottumwa Office. The 2023-2024 STEM Scale-Up Program Applications are open with 13 options on this year's menu. Applications are due February 28, 2023. Not sure which Scale-Ups are right for you? Join us for dinner!
DATE: Thursday, February 23, 2023
TIME: 5:00 PM -7:00 PM
LOCATION: Great Prairie AEA in Ottumwa
We'll provide you with an overview of the 2023-24 STEM Scale-Up Menu, dinner, and assistance in preparing your Scale-Up application. PreK-12 educators from the following organizations are invited:
public and private PreK-12 schools
childcare centers
county conservation offices
libraries
county extension offices
home school associations
other formal and informal youth organizations who deliver STEM education programming for PreK-12 youth.
Scale-Up awards provide free STEM training and materials to Iowa educators who work with youth in or out of school. Programs were selected by teams of Iowa educators and STEM professionals.
STEM Scale-Up Educator Flyer (PDF)