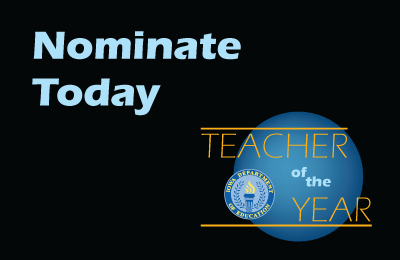 Will the 2024 Iowa Teacher of the Year hail from your school district? One thing is sure: She or he won't if you don't nominate a teacher for the honor.
And that's the beauty – anyone can nominate a teacher: administrators, colleagues, students, parents, college faculty, and associations.
The Teacher of the Year award provides an opportunity to recognize an Iowa teacher who motivates, challenges, and inspires excellence; who is respected by students and peers; who is a dedicated professional that helps nurture hidden talents and abilities; who is a creative, caring individual; who takes teaching beyond textbooks and blackboards; and who is an exceptional teacher helping to redefine American education.
Sound like someone you know? Then nominate today.
The dissemination of information from external organizations by Great Prairie AEA does not infer sponsorship or endorsement of the information. It is being passed on to our stakeholders for its educational value.