This month's Future Ready spotlight lands on the Governor's STEM Council's STEM BEST program. STEM BEST "Businesses Engaging Students and Teachers" is an initiative that supports school districts with award dollars that helps to grow and develop authentic and STEM related programming that works directly in connection with area business and industry. Many of these programs can also be called authentic learning programs because students are engaging in real projects and solving real problems. To this end, Iowa AEAs partnered with Iowa STEM to support a day long "STEM BEST Design Day" where 18 different school districts from around Iowa came together to learn more about what these programs could look like and how they can support PK-12 students. The day was designed using Agile Project Management protocols to support visioning and the development of the deliverable, the award application. 
In attendance was Jessie Greiner, Director of Innovation and Technology Integration for Van Buren County Community School District. Jessie shares her experience from the design day: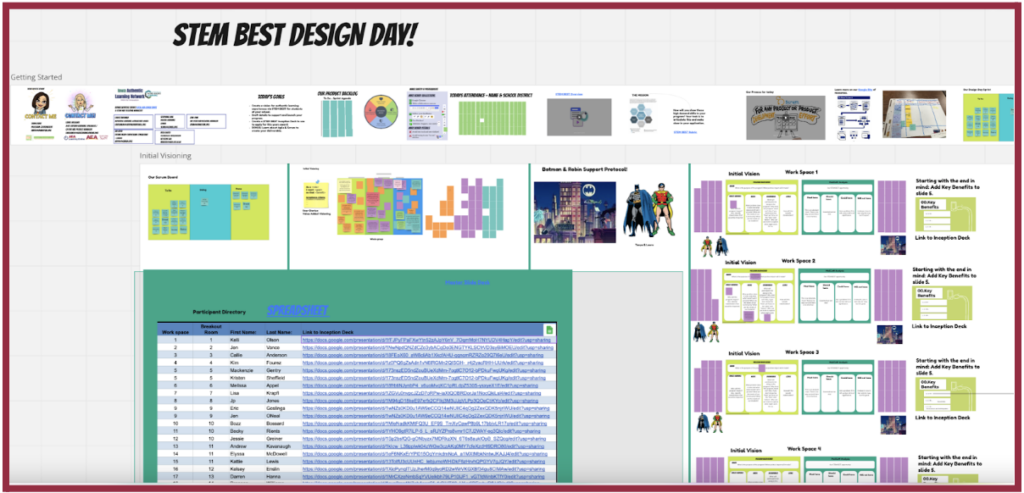 "Grant writing can be an overwhelming task that many are too scared to take on. With the amazing help from one of our own, Laura Williams, and Iowa Governor's STEM Council Project Manager, Tanya Hunt, they made it seem totally doable! Their STEM BEST grant writing workshop helped us break apart the components of the grant into bite-size pieces and allowed us to collaborate with peers from Iowa who were in our same shoes dreaming up STEM Best visions. I am so proud and thankful to educate in a state that supports and encourages STEM and provides our students with authentic learning opportunities." 
Connect with Jessie at
jessie.greiner@vbcwarriors.org
to learn more about the process. 
This year's award application focuses on the development of high-demand skills that are necessary for the future STEM workforce. The award window runs through Dec. 15th so there is still time to apply. Check out more information at
https://iowastem.org/STEMBEST
on contact Tanya Hunt, the Project Coordinator for the STEM BEST initiative, at
Hunt@iowastem.org
.  
Looking for local support on submitting a STEM BEST or creating an authentic learning program in your school? Contact Laura Williams at
laura.williams@gpaea.org
to get the conversation started!