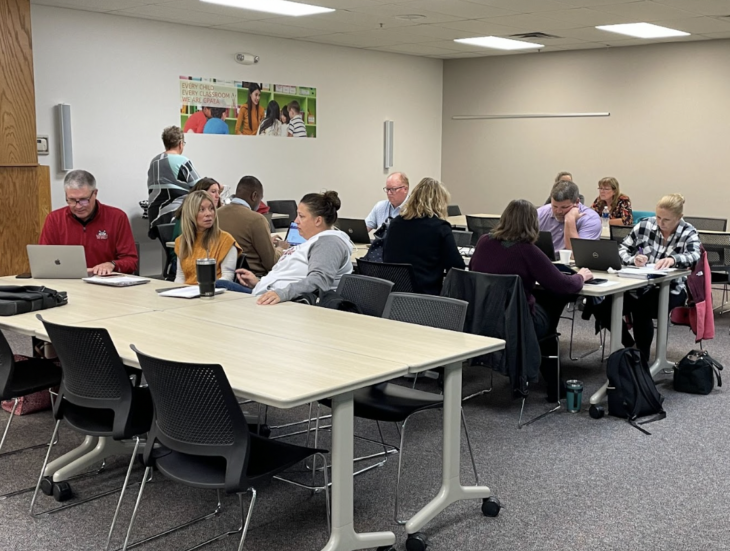 This month's
Future Ready Spotlight
lands on the District Career and Academic Planning process or DCAP. The DCAP provides districts with a "living document" to support students in their Individualized Career and Academic Planning process or ICAP.
Great Prairie Area Education Agency and RPP Anne Morgan hosted Erica Woods-Schmitz, Education Consultant Iowa Department of Education, this past week in Burlington and Ottumwa to share the importance of District and Individual Career & Academic Plans. These workshops provided a collaborative environment in which educators were apprised of state requirements and supplied districts with resources and guidance to update their own plans. 
The
District and Individual Career & Academic Plan
workshops are being held throughout the state this fall. During these workshops, district teams are given valuable time to learn more about the planning process, use their district data for post-secondary success, and make a viable implementation plan to ensure all students' ICAP needs are met. These half-day workshops stress the importance of bringing a team together to support the DCAP process, the addition of FAFSA advisement & work-based learning (WBL) into ICAP, as well as the value of looking at the scope and sequence of their career information system, and incorporating the five essential components with reflection. 
In looking at the five essential components of DCAP, districts are tasked with assessing what they are currently doing in regards to each area: self-understanding, career information, career exploration, postsecondary exploration, postsecondary education, and career and postsecondary decision making. District teams are mindful that all of the components are addressed each year, that ICAP essentials can be incorporated into course content, knowledgeable about resources and content found within their career information system, and student reflection is evident throughout the planning process. 
The ICAP implementation process was clarified in 2016 and continues to update and evolve to continue to support students. Last year, districts were informed that their DCAP would be collected by the RPPs and provided a process for evaluation of the individual district plans. For this year, Anne Morgan has requested that all district plans be submitted to her by April 1, 2023. An external team of AEA, RPP, and district staff will be formed to continue to support the evaluation process and provide feedback for the region's district plans. 
For additional information please reach out to
Anne Morgan
(RPP 15/16 Coordinator) or
Erica Woods-Schmitz
(Education Consultant at Iowa Department of Ed).